Tuesday, May 24th, 2011
I opened up the hive today.  Two days ago I took off the back bar and squashed a small hive beetle (SHB).  I'm a bit worried that they'll be back this year, so I went in for a look.
Here's a shot from the back of the hive.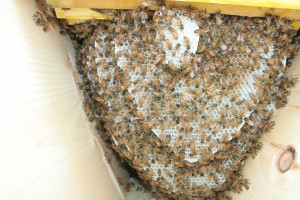 I took a bit of video and you'll see that there's good brood and that the bees are attaching the comb on the right side (looking from the back).  You'll also notice that some of the front combs are stuck together.  I didn't pull the front comb out as I didn't want to drop it.  It's time to number frames for better note keeping.
Here's a shot of the stuck combs from the top.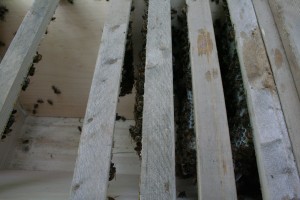 Here's a look at the comb from the front of the hive.